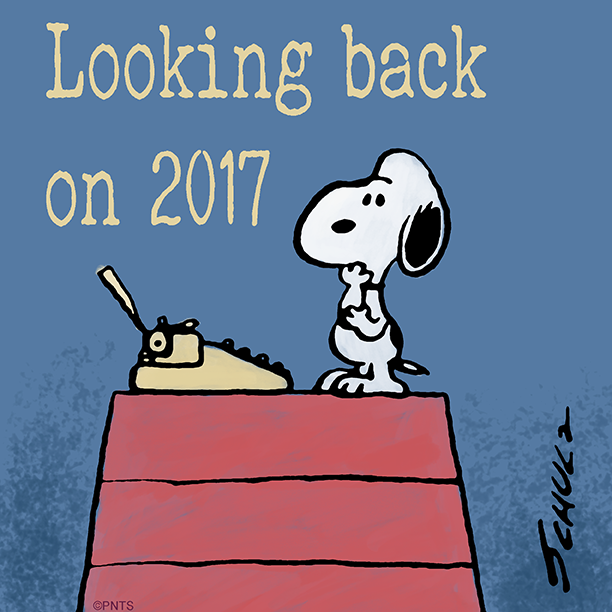 I fell in love with reading when I was a kid. I devoured books from the school library and used all my allowance money each month to purchase the next Baby-Sitters Club book in the series until I had almost the whole collection. Later, as a teen, I discovered the book section at our local Goodwill, a store I still frequent today. Back in the mid-90s, paperbacks there were 50 cents each (now they're $1). Through my purchases at the Goodwill, I discovered Stephen King and V.C. Andrews novels (the ones she actually wrote before the "trust" pirated and diluted her memory—another story for another day) that I was probably too young to read at the time.
At the beginning of 2017, I set a goal on Goodreads to read 52 books or one per week. I wasn't sure I would make it, because from 2008 (when my son, Drew, was born) up until the end of 2016, I averaged two to three books per year that didn't have illustrations or animal characters in them.
Well, I not only met but exceeded my goal. I read 59 books in 2017. Most of them, I enjoyed (three to four stars), and a few changed my life (five stars). I discovered some great indie authors and some traditionally published work that moved me in some way. I'm actually reading another indie author book right now (by someone I used to know) thanks to my Kindle Direct 30-day free trial. I'm not sure it's a good idea to reveal what book it is, but I'll think about it.
Top two (out of six) independent authors I read in 2017:
Brad Carl, The Grey Areas Saga: Books 1-4. A set of novellas following the adventure of a mysterious man who moves to a small town and gets enthralled in illegal activity.
Rebecca Yelland, Dancing at Midnight and The Other Side of Midnight. A set of beautiful novels about a woman's journey learning about the past pain of her mother through a diary she discovers.
Top ten traditionally published work I read in 2017:
What's the best book you read in 2017? I challenge myself to read 60 books in 2018. My next novel, Jordan's Sister, will be published in the spring of 2018, so maybe someone will have it on their top ten list this time next year. More details are coming soon.
Happy New Year, everyone!
-Brandi Easterling Collins