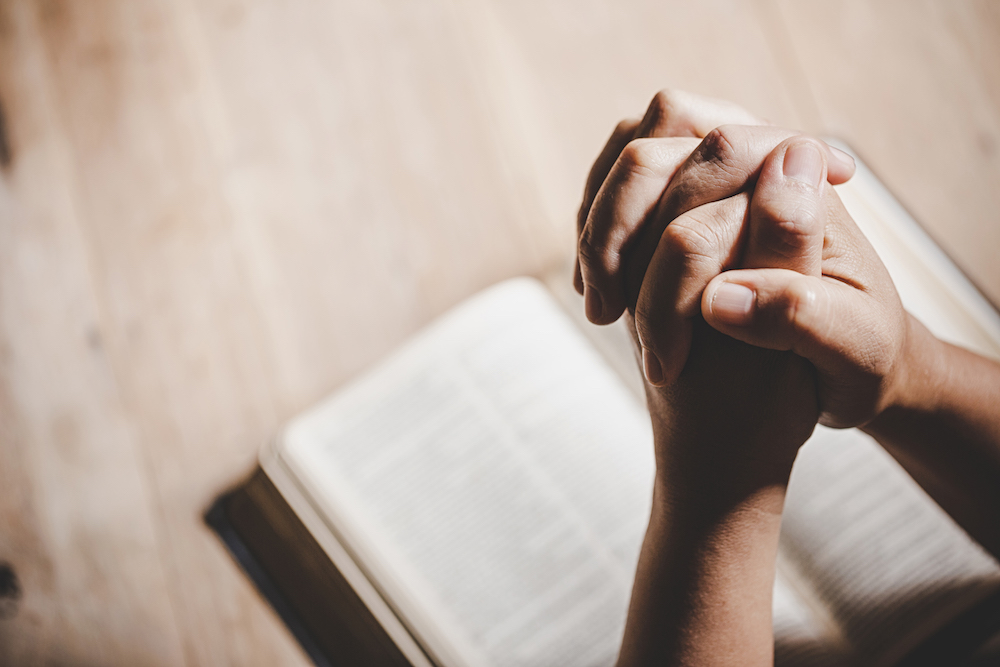 I didn't attend church regularly while growing up, although I lived in the "Bible Belt" (and still do). I remember going to churches for weddings, as a guest of my friends on occasion, and with my Meema (my dad's mother) when I would spend some Saturday nights with her but was never officially a member of any church until I was an adult. It's not knocking my parents in any way; church was just not something we did.
We were not a family that prayed before bed or said grace before meals. During holidays, other family members would say grace, and I would bow my head and pray along with him or her. I never had any doubts about the existence of God—He was all around me. Signs of His presence showed up often in my life as I dealt with the pain of losing my father at a young age and the deaths of other loved ones, including my grandparents.
During my late teens, one of my favorite phrases was, "I'm currently between religions." It was usually met with laughter or invites to church groups, but it was true. I wasn't sure which direction to go.
In my early 20s, I met Jonathan, whom I would later marry, a man who had grown up going to church every time the doors opened. He'd since stopped going for reasons that are his own story, and the rest is history. When we were about to get married, we fell into a relationship with a lovely and small Presbyterian church where my in-laws briefly attended. And then we stuck around. I enjoyed the people there and felt like I belonged—until I didn't. We stayed there through my pregnancy with Meredith, which was difficult. After that, the pastor resigned due to personal reasons, and I didn't feel a connection to the church anymore the longer I was away.
We explored a few other churches after that, a Baptist church where Jonathan's brother attended while he lived in Arkansas and later an Assembly of God church where Jonathan's parents attended. I didn't feel at home at either of those places for various reasons. My son, Drew, was also having some issues (which I'd rather not discuss publically) with the children's church format in these locations.
Then, I found a non-denominational church in Russellville, the largest I had ever attended. I loved it at first. The people were welcoming, and my children loved it there. I finally felt at home in a place where I could get involved and not feel overwhelmed. I joined a couple of life groups to get to know others and learn more about the church. Everything was great—until it wasn't anymore.
After a while, I was the only person in my family who wanted to go. My kids didn't want to and neither did my husband. I managed to drag the whole family to the candlelight Christmas Eve service, but other than that, I averaged three Sundays a month attending by myself. I was still seeking something. I spoke to several people and exchanged pleasantries. Then I would leave and come home and get fussed at by one or both of my children who claimed they would have gone with me. Then the next weekend would roll around, and the cycle would repeat itself with the kids not wanting to go.
I do my best to volunteer, but I get griped at by the righteous woman who would rather have cords draped across a food table than to start with the hot foods to avoid this problem (long story). Then the life group where I've been enjoying the people and friendships breaks up. Then I slip away. Then the sermon comes where I'm told how to vote or whom to condemn.
A whole year goes by without attending church, and no one notices I'm gone. And I am gone. The act of walking back through those doors seems farther away with each passing week.
In reality, my relationship with God has very little to do with what type of pew or chair my body graces. I can pray while I'm in the shower, cooking dinner, before drifting off to sleep, while driving, and while walking to clear my head. What I truly want out of a church experience is connections. I want friendships with like-minded people. Friendships that will last. Friends who will miss me and check up on me if I don't show up. Those who will hold me accountable to be the best person I can be for God, my family, and myself.
Because, honestly, loneliness plagues me more than anything. My closest friends are far away. Some literally. Some figuratively. Some both. Some I've tried desperately to maintain a connection with, but after a while of no return, I just had to let them go. I still care deeply and pray for them. It's the same lesson I tell my kids all the time. Unfortunately, some friendships are not built to last a lifetime, especially when both people are unwilling or unable to nurture that friendship. Sometimes we have to accept that memories are all that's left of these souls who were not destined to stick around. Perhaps that's who I was to these church communities I've left—the soul who wasn't destined to stick around.
I've been thinking a lot about church in the last year since I've been absent from the experience. There are several different ones in Dardanelle and Russellville that I've yet to try. The non-denominational church is even planning to open a location in Dardanelle soon. I'm still on the mailing list, so I've been invited to attend an informational session. I haven't decided yet if I'll go. Maybe it's the opportunity for a new start. Only time will tell.
-Brandi Easterling Collins