First summer beach vacation
Childhood vacations
I remember the first time I went to the beach with my family when I was a teenager. We didn't stay right on the beach, nor did we swim in the ocean, but it was an experience all the same. I remember getting to go out on the beach at night, and I saw a shooting star. I made a wish on that star to meet the man I was supposed to spend my life with by the time I was 23, and it came true. I met Jonathan right before my 23rd birthday.
Road trips were always our thing because the expense of flying was out of the question for our family of four, and sometimes five or six, depending on if my step-siblings could come.
Another road trip took us through several states to get to Cripple Creek, Colorado, including a lot of Route 66. We also had shorter trips to Memphis, Tennessee, Dallas, Texas, and somewhere in Oklahoma to see relatives. And trips within Arkansas were frequent with trips to Hot Springs to go to Magic Springs, and visits to Lake Ouachita, Lake Hamilton or Lake Degray, which were all close to our home in Benton and sometimes included camping.
Vacations for my kids
My kids haven't had as many vacations yet (considering we had a global pandemic during some of their prime vacation years). Drew took a trip to Georgia with Jonathan and me when he was a toddler in the fall of 2010 when Jonathan's brother and family lived there. I don't think Drew remembers it, but we took him to a natural history museum while we were there, and he got to play on a neighbor's swing set which inspired us to get him his own about six months later for his 3rd birthday. The photos I took of him on that play set are among my favorites of him because he had the expression of pure joy.
Vacations with both kids began in the summer of 2018 with a trip to Crater of Diamonds State Park, and then we did an overnight trip to Hot Springs the following summer. I wrote about those family vacations back in 2019. We wanted to do a larger vacation in the summer of 2020, but COVID-19 spoiled those plans for the next two summers so we did an in-state visit to some museums in Northwest Arkansas. Then our money pit house (that we love) prevented a big vacation in 2022, so we just did a day trip to the Memphis Zoo.
The beach: Dauphin Island, Alabama
The stars finally aligned in early 2023. I received an unexpected bonus from work, and decided to spend it on a family beach vacation. After a lot of consideration, mainly focusing on beaches in the Gulf Shores area because we wanted a destination we could reach within a day, we decided on Dauphin Island. Jonathan and I had never been, and I had recommendations from several friends and acquaintances that it was a great family-friendly place not as crowded as other beaches. And that's exactly what we wanted.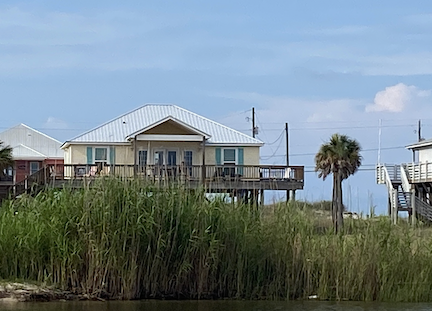 Looking at the funds we had available, we found a house to rent right on the bay side of the island with a semi-private beach. This would mean packing food to cook to save money since we could only budget two fast food lunches and one nicer sit-down dinner during our travel (planning our last dinner to be back at home on our last day). It was a nice trade-off, the cooking, to be able to have the privacy. In fact, the beach was so nice right outside our rental, we didn't bother going to any of the public beaches during our trip, which was Sunday, June 4—Thursday, June 8, 2023. This timing also worked well for my mom to come stay with our dogs, but just in case, the house we chose was dog-friendly if we needed to bring the boys with us.
The drive
We left early in the morning for our nearly 600-mile drive. We traveled in our 2019 Tesla Model 3 that gets about 210 miles on a fully battery charge. Of course, the stops aren't exactly timed at the end of the battery, so we had to make several stops along the way, about every two hours or so to charge for a bit in order to make it to the next charging stop. Most of our drive there (and back) was in Mississippi. We spent  $118.95 at Tesla Superchargers during the whole trip, so that's not bad at all. The stops were at gas stations, near shopping malls or buy restaurants, so we always had access to a restroom at each stop. The last stop on the way there was right outside an Outback Steakhouse, so that's where we chose to have our one really nice dinner during the trip. It was delicious.
What food I packed (and how)
In prep for our trip, I froze two pounds of ground beef, one package of beef hot dogs, a small package of pepperoni, two pounds of shredded mozzarella cheese, a small amount of pizza sauce, and four small containers of greek yogurt. I knew that starting out with the items frozen would be the safest way for them to travel in the 85 – 90-degree weather. The day before the trip, I bought two bags of ice and stashed them in our deep freezer to have the next morning, since we planned to leave by six o'clock.
All the frozen food plus two packages of refrigerated Pillsbury Cinnamon rolls, sliced cheese, and a small container of ketchup went in the bottom of our large cooler, then we dumped in the two bags of ice. On top of the ice was some of our bottled water for the trip so we could avoid paying a fortune for snacks and drinks along the way.
We also packed things for the road like Snickers bars and Mini M&Ms (kept in the air-conditioned part of the car) gummy bears, Laffy Taffy, peanut butter crackers, and Pringles snack packs. I took a new small bottle of mayonnaise, two pre-baked pizza crusts, a box of Capri-Suns, two tea bags, 1/2 cup of sugar, new salt and pepper disposable shakers, partial bags of cereal, two bags of chips, two Martha White muffin mixes, two pouches of Velveeta Cheese sauce, one pound of elbow macaroni, one quart of shelf-stable milk, and hot dog and hamburger buns (carefully stashed in Meredith's hard-shelled suitcase).
How we cooked the food
The beach house kitchen came fully stocked with cookware and dishes, so we figured we'd be able to find what we needed. We managed just fine! The idea was feeding us, not necessarily with variety. And we didn't want a bunch of leftovers or wasted food.
Breakfast was cinnamon rolls for two days and muffins for one. Drew, Meredith and I had cereal for lunch at least once during the trip. They eat their cereal dry, so I was the only one using the milk, except for when I used a cup of it for the muffins. The milk was used up during the stay.
So with the ground beef came 8 burgers (with the 8 buns) and a small amount of cooked ground beef for a pizza topping. All 10 hot dogs were eaten along with the 10 buns I brought. Hot dog and hamburger toppings included mayonnaise and cheese for Jonathan and cheese and/or ketchup for Drew and me. Meredith existed mostly on macaroni and cheese, which I made for lunch the first day, and the leftovers fed us during the rest of the trip.
To change up from the burgers and hot dogs a bit, I made pizza the second night of our stay. The pre-baked crust wasn't as good as the crust I usually make from scratch, but it was edible and a nice break from eating the same things. I had thought about bringing refrigerated pizza crust instead, but the pre-baked stuff was cheaper and easier to transport.
What I wished I'd brought: A small bottle of cooking spray or a baggie with some shortening for greasing pans to bake the muffins. What I did instead: After a quick Google search, I learned I could use a small mount of mayonnaise without the risk of leaving behind the taste, and it worked! I didn't tell her, of course, but my pickiest eater, Meredith, was none the wiser.
How we spent our time in Dauphin Island
Relaxing was the main thing on our agenda for the vacation. We had no plans to do anything other than relax on the beach or in the house, and that's exactly what we did. We only visited one local store for a couple of souvenirs on our last full day on the island. We drove around and saw the whole island that day, but we didn't stop anywhere else. There is an aquarium we would have visited had it not been closed for renovations during our stay.
So we went to the beach a lot, lathered up in SPF 50 and donning hats and sunglasses. Our little semi-private beach had a bridge to reach it that covered a tide pool, and there was an old wooden picnic table nearby that perfectly held our beach umbrella. We built sandcastles, collected seashells, hunted for crabs in the evening, and swam some in the murky water. While this was not a clear water beach, we had a lot of fun. I forced my family to dress up for some family photos on the beach with only a little bit of yelling.
We also spent a lot of time on the deck at the back of our beach house just relaxing or reading. The kids had tablets and the Nintendo Switch. Meredith and I played a couple of travel board games I'd picked up at the Dollar Tree. I highly recommend those if you want something easy to pack and throw away. The Monopoly and Scrabble Jr. games were lots of fun, and they were in good enough shape that I left them at the beach house for others to enjoy.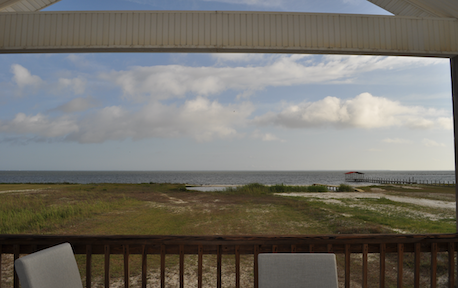 The house on the beach
The house we booked was Two Views on the main tourist strip of the island. Out the back of the house was a view of the bay between the mainland and the island, and out the kitchen window (and across the road) was a view of the Gulf of Mexico. It was advertised to sleep 11 people in the four bedrooms, plus a sofa bed. Of course, we didn't need that much space, but the house worked well for our needs. The kids each had a bedroom facing the bay, and Jonathan and I chose the only bedroom with a king-sized bed. I did spend some time in the extra bedroom at the front of the house for naps and one night of sleeping when my muscles were achy and I didn't want to disturb my husband. Meredith was excited to have the tiniest room with a twin over full bunk bed so she could sleep on the top bunk and lounge on the bottom. We didn't use the sofa bed.
The kitchen was well stocked with a mismatch of dishes, cups, glasses, cooking utensils, pots, pans, and flatware (minus some butter knives). We found a tea kettle, muffin tins, a strainer, and a few food storage containers. Everything was clean, and the hosts had provided a few dishwasher detergent pods, a new sponge, and a small bottle of Palmolive dish soap. (I had brought my own just in case, since I am allergic to Dawn, and had also brought a few dishwasher pods just in case.)
There was also a laundry closet, and the hosts had provided a few laundry soap pods. I'm not sure what kind they were, but while I was there, I used my own small bottle of All Free and Clear to wash our things and towels we used. I didn't use the host-provided soap until our last morning to start the load of towels as requested in our check-out procedures.
Each of the two bathrooms were stocked with plenty of towels but lacking in washcloths. We made due without them. The hosts provided two rolls of toilet paper in each bathroom, though I had also brought some from home just in case that we ended up not needing to open. I'd also brought our own beach towels and was glad to have them since the towels at the rental were standard bath towels.
The house was built on stilts, so underneath it was the parking area, a swing, an outdoor shower (full of a few beach items and toys), a gas grill, and as an added bonus—a standard electrical outlet. I noticed that in the photos before booking the trip with hopes we could use it to plug in the car. It was perfect to bring us to a full charge before leaving the island since we didn't drive around once we got there except for the one trip on our last full day.
How we dealt with snags
Any vacation is sure to have a few things that go wrong. Our wrongs started on day one during the drive. Using Tesla's navigation is generally pretty great, but due to some random weirdness, Jonathan and I each took a turn at missing an exit during the journey. The resulting rerouting from each of those oopsies added about two hours to our drive. The good news is we made it to the beach house just before nine at night, so it wasn't too bad. Plus, we didn't miss the exits on the way back.
Another issue was a scheduled power outage for Wednesday, which was also our last full day on the island. I received a notice on Monday via email and was a bit irritated. But things happen, and it would be affecting most of our side of the island. In prep for it, I used some large bowls from the kitchen and started collecting ice to use in our cooler to keep the last of our cooked burgers, hot dogs, and mac and cheese safe, along with our mayonnaise and cheese slices.
When the power went out that morning after breakfast, we stashed our food in the cooler for the day. We hopped in the car and headed toward the center of the island (passing at least two dozen utility trucks with men and women working on the lines) to purchase our souvenirs. When we got back,  I opened all the windows in the house to keep it cool, and we set off for the beach. At lunch time, we used the gas grill to heat up hamburgers, hot dogs, and macaroni (in a sauce pan). It worked fine, and by dinner time, the power was back on.
Reflections one month later
The trip was a lot of work (especially for me—the mom and planner). All the work was worth it. The kids got to see the beach. Meredith wanted to swim in the ocean, and Drew wanted to see a crab. Both got what they wanted. We came back with lots of sand in our shoes, a bag full of sea shells (which got a bleach bath at home to get rid of the stink) and some fun memories. I'm already looking forward to another vacation before the kids aren't kids anymore. It goes by quickly.
Thank you for reading, and tell me about your favorite vacation memory in the comments if you'd like!
-Brandi Easterling Collins