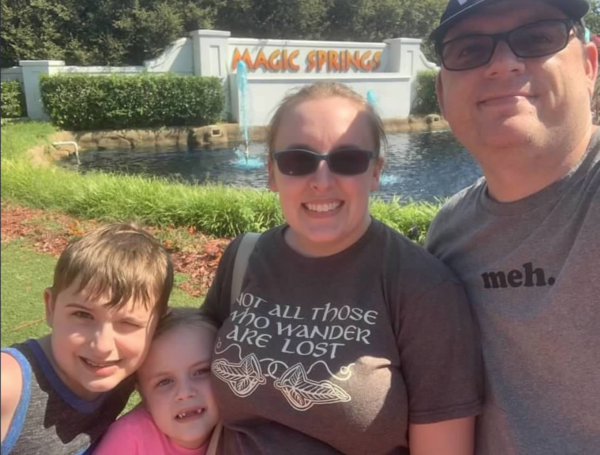 The road to hell was paved with family vacations…just kidding. I remember several family vacations from my childhood. My stepdad, mom, younger sister, and I would pile into the station wagon or one of my mom's Jeep SUVs and head for a drive out of state. A couple of times, my stepsister joined us for out-of-state trips, and once I remember my stepbrother joining us for camping in-state, but usually it was just us girls.
I appreciate the memories of visiting Cripple Creek, Colorado; Mobile, Alabama; Pensacola, Florida; Dallas, Texas; and Memphis, Tennessee. There were stops along the way in little towns in Oklahoma, Mississippi, Kansas, Missouri, and New Mexico. My stepdad was always generous in taking different routes on the way home to hit as many states as possible for my souvenir postcard collection.
On one trip to the lake, all six of us piled into my stepdad's deer camp camper. It was pretty crowded with my parents on the pull-out sofa bed, my stepsister and I on the dining table drop-down bed, my younger sister on the floor in the tiny space between the dining table and the kitchen appliances, and my stepbrother in the loft bed above the sofa. Somehow we survived a night or maybe two without our parents killing us or my siblings and I killing each other. Fun times…for the kids at least.
Now, as an adult, I am even more grateful for the memories my parents helped solidify when we traveled. Because, now, I am one-half of the adults in the family vacation situation. And, dear Lord, it's hard! When traveling with kids, there's a fine line between fun and insanity—a line that all kids like to jump on. Repeatedly. It isn't a game of "step on the crack and break your mother's back." It's a trip-wire of emotions that can take a turn for better or worse at any time.
That's right. At. Any. Time. For example, what kind of mother forgets to bring children's pain reliever for the inevitable aches and pains from all the vacation-induced walking? Me. That's who. I totally left it on the countertop at home. No worries. A midnight trip to the hotel front desk for some Tylenol (that cost as much as a whole bottle) for two pills saved the day thanks to my dear husband while I stayed in the room massaging the achy muscles of a hurting child. The other child was scared of the dark, even though we left the bathroom light on which made the room perfectly lit. Sleeping in the same bed with said child resulted in sleep for her but very little for me. And that was just for one night, which is so far, our limit for family vacation overnights.
Last summer we did a campout at Crater of Diamonds State Park in Murfreesboro, Arkansas. It was a lot of work, but at least everyone slept well. About a month ago, we decided to be tourists in our own state again. We stayed overnight in Hot Springs, Arkansas, to visit the Mid-America Science Museum and Magic Springs & Crystal Falls theme park. Those were nice outings, although there were some issues.
Later in the week (after some much-needed rest) we went to the Little Rock Zoo, followed by shopping at the outlet malls and dinner at Dave & Busters where the kids could run wild (under supervision, of course) and play arcade games. My husband and I enjoyed our week off work and tried hard to make good memories for our kids without yelling at them too much.
Eventually, we want to take the kids to Disney World in Florida. I think Jonathan and I might be insane. We barely survived one night in Hot Springs. How will we survive multiple overnight stays and hours upon hours of driving? At this point, we may have to wait until the kids are a little older. I'm not sure we all could survive the trip at this point. Plus, have you priced Disney? It's soooo expensive.
Until then, we'll try to do the best we can to give our kids good memories. Maybe they won't fight with each other as much next time. Who am I kidding? Yes, they will. Along with the ever-present question of "Are we there yet?"
-Brandi Easterling Collins