My 30 Favorite Male Singer-Songwriters
I recently wrote about my favorite female singer-songwriters, so now I'm writing about the male ones. My initial list was long, and it was extremely difficult to narrow it down to my top 30. That's why you'll see a lengthy list of honorable mentions. I'm not saying any of the artists are better or worse; I'm just basing the list on my favorites and the songs that have meant the most to me.
A key difference in a lot of the male singer-songwriters is that more of them are lead singers of a band than the songwriters I admire who are female. It's just how it is, I suppose. Now, not all of these men have always been on their best behavior (and some of them are known to be total assholes) but I'm focusing on the lyrics and not the behavior of the man who wrote the song.
30 male singer-songwriters I admire (in alphabetical order)
Aaron Lewis
Aaron Lewis is the lead singer and primary songwriter for the band Staind. He also has a volatile solo career where he's known to storm off stage if the crowd gets too loud.
My favorite Staind song is probably "Outside," written by Lewis.
But I'm on the outside, I'm looking inI can see through you, see your true colors'Cause inside you're ugly, you're ugly like meI can see through you, see to the real you

All the times that I've cried
All this wasted, it's all inside
And I feel all this pain
Stuffed it down, it's back again
A close second is "It's Been Awhile," penned by Lewis and other band members, Mike Mushok, Johnny April, and Jon Wysocki.
And it's been awhileSince I can say that I wasn't addictedAnd it's been awhileSince I can say I love myself as well and

And it's been awhileSince I've gone and fucked things up just like I always doAnd it's been awhileBut all that shit seems to disappear when I'm with you
Adam Gontier
Adam Gontier was the lead singer of Three Days Grace until he left the band in 2013 and was replaced by singer Matt Walst. He now fronts and writes for Saint Antonia, but I will focus on his work with Three Days Grace since that's where I first heard his talent.
"Pain" really spoke to me when I first heard it, and it was a song that played on the radio as I drove to learn the fate of my stepdad after an accident. It was written by Gontier and some websites also credit Barry Stock, Brad Walst, Neil Sanderson (three of the current members of the band), and producer Gavin Brown. The song is included in the honorable mentions of my favorite songs list.
Anger and agony are better than miseryTrust me, I've got a planWhen the lights go up, you'll understand


Pain without lovePain, I can't get enoughPain, I like it rough'Cause I'd rather feel pain than nothing at all
I also love "Never Too Late," which Gontier wrote with his then-wife Naomi Brewer. Other writing credits go to Sanderson, B. Walst, and Brown.
This world will never be what I expectedAnd if I don't belong, who would have guessed it?I will not leave alone everything that I ownTo make you feel like it's not too late, it's never too late

Even if I say, "It'll be all right"Still I hear you say, you want to end your lifeNow and again we try to just stay aliveMaybe we'll turn it all around, 'cause it's not too late, it's never too late
I also really like the band's songs "I Hate Everything About You" and "World So Cold" while Gontier was still writing and singing with them.
Bob Dylan
Bob Dylan is a talented poet, a writer who happens to sing and play the guitar. His songs have been covered by multiple singers throughout the years, allowing others to discover his talent. Some people are turned off by his unpolished voice, but I like his honesty. The following two songs are my favorite of his.
May God bless and keep you alwaysMay your wishes all come trueMay you always do for othersAnd let others do for you

May you build a ladder to the starsAnd climb on every rungMay you stay forever youngMay you stay forever young
"The Times They Are a-Changin'"
Don't stand in the doorwayDon't block up the hallFor he that gets hurtWill be he who has stalledThe battle outside ragin'Will soon shake your windowsAnd rattle your wallsFor the times they are a-changin'
Chad Kroeger
Love him or hate him, the lead singer of Canadian rock bank Nickelback knows how to write a hit song. Before the band was big, they toured with MTV on college campuses, one of which was Arkansas Tech University. I went to the concert and met him afterward. He was super nice and autographed my ticket stub.
Their first single was "How You Remind Me" penned by Kroeger, with writing credits shared with bandmembers Ryan Peake, Ryan Vikedal, and Michael Kroeger, but I love the slower-paced "Far Away" more (same writers).
'Cause you know, you know, you know
That I love you
I've loved you all along
And I miss you

Been far away for far too long

I keep dreaming you'll be with me

And you'll never go

Stop breathing if I don't see you anymore
Another catchy song written by Kroeger and the band is "Rockstar," but their song "Photograph" really stands out to me and hits heavy on nostalgia.
Every memory of looking out the back door
I had the photo album spread out on my bedroom floor
It's hard to say it, time to say it
Goodbye, goodbye

Every memory of walking out the front door

I found the photo of the friend that I was looking for
It's hard to say it, time to say it
Goodbye, goodbye
Chris Cornell
The late Chris Cornell was a solo artist and the lead singer for Soundgarden, Audioslave, and (short-lived) Temple of the Dog. He was a gifted musician who struggled with depression and took his own life. Here are two of my favorite songs of his, one he released solo and the other with Soundgarden.
Every time I stare into the sunTrying to find a reason to go onAll I ever get is burned and blindUntil the sky bleeds the pouring rain

When you came along the time was rightPulled me like an apple red and ripeWasn't very long you took a biteAnd did me wrong, and it serves me right
Whatsoever I've feared has come to lifeAnd whatsoever I've fought off became my lifeJust when everyday seemed to greet me with a smileSunspots have faded, now I'm doing timeNow I'm doing time

'Cause I fell on black daysI fell on black days
Corey Taylor
Lead singer of bands Stone Sour (rock) and Slipknot (metal), Corey Taylor also has a solo career. He's a talented songwriter with lyrics that are smart and meaningful. Check out his song "Bother," which he later released with Stone Sour.
With Stone Sour, Corey wrote (along with other band members, Shawn Economaki, Josh Rand, and Jim Root), recorded, and released "Through Glass."
I'm looking at you through the glassDon't know how much time has passedOh God, it feels like foreverBut no one ever tells you that forever feels like homeSitting all alone inside your head
And despite Slipknot being primarily a metal band, they released a slow song "Snuff" penned by Taylor (some websites also list songwriting credits for band members Craig Jones, Joey Jordison, Paul Gray, James Root, Mickael Thomson, Michael Shawn Crahan, Sidney Wilson, and Christopher Fehn). He's been known to sing it on his own with an acoustic guitar, which is what I link to above. Honestly, I never thought it fit with other Slipknot songs ("Psychosocial" "Dead Memories," and "Duality" to name a few) and felt like it should have been released as a solo song or with Stone Sour.
Bury all your secrets in my skinCome away with innocence, and leave me with my sinsThe air around me still feels like a cageAnd love is just a camouflage for what resembles rage again

So, if you love me, let me go
And run away before I know
My heart is just too dark to care
I can't destroy what isn't there
Daniel Johns
As a young teen in the mid-1990s, I adored the Australian rock band Silverchair, fronted by Daniel Johns. He has a distinctive voice and piercing blue eyes. I'll admit, I had a major crush on him. I would listen to their albums on repeat, and most people will recognize the song "Tomorrow" from their first album. Here are a couple of other notable songs I liked, written by Johns.
"Abuse Me" from their second album.
Well I don't think you like meWell I hate you as wellNo one seems to like youWish I couldn't tell

C'mon abuse me more I like itC'mon keep talking 'cause it's true
"Miss You Love" from their third album.
I love the way you loveBut I hate the wayI'm supposed to love you backIt's just a fadPart of the, teen, teenage angst brigade and

I'm not, not sureNot too sure how it feelsTo handle everyday
Dave Grohl
Dave Grohl is a rockstar, a badass, and an overall nice guy from what I've heard about him. He was the drummer for Nirvana and later formed Foo Fighters. He originally wrote, recorded, and played all the instruments himself to release the first self-titled album. They played in Northwest Arkansas during the summer of 2023, but I wasn't able to get tickets since they sold out so quickly.
"I'll Stick Around" from the first album.
I thought I knew all it took to bother you
Every word I said was true, that you'll see How could it be I'm the only one who sees Your rehearsed insanity? Yeah
I still refused all the methods you abuseIt's alright if you're confused, let me beI've been around all the pawns you've gagged and boundThey'll come back and knock you down and I'll be free
"
Monkey Wrench
" from the second album, written by Grohl and bandmates Pat Smear and Nate Mendel.
One last thing before I quitI never wanted any moreThan I could fit into my headI still remember every single word you saidAnd all the shit that somehow came along with itStill, there's one thing that comforts me
Since I was always caged and now I'm free

Don't wanna be your monkey wrench
David Draiman
I had the privilege of meeting David Draiman along with, guitarist Dan Donegan, and bassist John Moyer at the Disturbed concert in Kansas City on January 23, 2019. Drummer Mike Wengren was recovering from the flu, so he didn't meet fans but still played a great show. They have awesome songs and have done a couple of covers I like better than the original releases of the songs.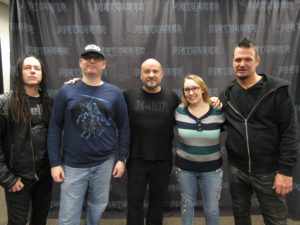 My favorite Disturbed song is "Prayer" written by Draiman with Donegan, Wengren, and former band member Steve Kmak.
Another truth you can never believeHas crippled you completelyAll the cries you're beginning to hearTrapped in your mind, and the sound is deafening

Let me enlighten youThis is the way I pray

Living just isn't hard enoughBurn me alive inside
A close second is "A Reason to Fight," written by Draiman, with Donegan, Wegren, and Kevin Churko.
I won't give up so don't give inYou've fallen down but you can rise againSo don't give up

When the demon that's inside you is ready to beginAnd it feels like it's a battle that you will never winWhen you're aching for the fire and begging for your sinWhen there's nothing left inside, there's still a reason to fight
Ed Sheeran
Ed Sheeran is a quirky redhead who knows how to write a pop song. Like Taylor Swift on my female singer-songwriter list, Sheeran has been sued for copyright infringement and won the case or had it dismissed.
I love "Afterglow" the most, written by Sheeran with David Hodges and Fred Gibson.
Stop the clocks, it's amazingYou should see the way the light dances off your headA million colours of hazel, golden and redSaturday morning is fadingThe sun's reflected by the coffee in your handMy eyes are caught in your gaze all over again
And "Thinking Out Loud," is great too, written by Sheeran with Amy Wadge.
So honey nowTake me into your loving armsKiss me under the light of a thousand starsPlace your head on my beating heartI'm thinking out loudMaybe we found love right where we are
Be sure to check out his songs "Castle on the Hill" and "Photograph" as well.
Eddie Vedder
Eddie Vedder is among the last of the grunge greats coming out of Washington State and the Seattle area. The lead singer of Pearl Jam wrote a lot of songs for their albums, including "Alive" and the powerful and controversial "Jeremy," but these two are my favorites.
Waitin', watchin' the clock it's four o'clock, it's got to stopTell him, take no more, she practices her speechAs he opens the door, she rolls overPretends to sleep as he looks her over

She lies and says she's in love with himCan't find a better manShe dreams in color, she dreams in redCan't find a better man
"
Black
" by Vedder with Stone Gossard.
I know someday you'll have a beautiful lifeI know you'll be a starIn somebody else's skyBut whyWhyWhy can't it beWhy can't it be mine
Edwin McCain
Edwin McCain is known for his performance of  "I Could Not Ask For More," written by Diane Warren, but he also penned one of my favorite songs, "I'll Be," which is also my character Layne's favorite song in my novel Jordan's Sister. In fact, Layne performs the song for Taylor in a karaoke bar on 90s night.
The strands in your eyes that color them wonderfulStop me and steal my breathAnd emeralds from mountains thrust toward the skyNever revealing their depth

And tell me that we belong togetherAnd dress it up with the trappings of loveI'll be captivated, I'll hang from your lipsInstead of the gallows of heartache that hang from above
Another great love song of he wrote with Larry Cheney is "Couldn't Love You More."
And they said I couldn't love you and that it would never last
He's just a crazy boy just look at his past
And they said I couldn't love you but that was just a lie
I couldn't love you more if I tried

I was the lucky one, the one having all the fun
Running into the sun, the party never ends
You waited there for me so loving and patiently
Shutting out sad words from your friends
Elton John
Elton John is in a class all his own. From his music to his flamboyant costumes, he draws a lot of attention to himself. He's known for many hit songs, including "Bennie and the Jets" and "Goodbye Yellow Brick Road."
I particularly enjoy "Candle in the Wind," originally written by John with Bernie Taupin about the death of Marilyn Monroe and later reworked after the death of Princess Diana.
And it seems to me you lived your lifeLike a candle in the windNever knowing who to cling toWhen the rain set in

And I would've liked to known you But I was just a kidYour candle burned out long beforeYour legend ever did
And "Tiny Dancer" is a fun song too.
But oh, how it feels so realLying here, with no one nearOnly you and you can hear meWhen I say softly, slowly

Hold me closer, tiny dancerCount the headlights on the highwayLay me down in sheets of linenYou had a busy day today
Gavin Rossdale
As the lead singer of Bush, Gavin Rossdale wrote their hit song "Glycerine." He also had a solo album that included one of my favorites of his, "Love Remains the Same," co-written with Martin Frederiksen.
I never thought that IHad any more to givePushing me so farHere I am without you

Drink to all that we have lostMistakes we have madeEverything will changeBut love remains the same
I really enjoy "Comedown" which Rossdale wrote and performed with Bush. I got to see Bush in concert in 2019.
No one knows, never willMostly me, but mostly youWhat do you say, do you doWhen it all comes down?

'Cause I don't want to come back down from this cloudIt's taken me all this time to find out what I need againI don't want to come back down from this cloudIt's taken me all this, all this time
James Taylor
James Taylor is an iconic folk singer who came into the music scene in the late 1960s. He sang some covers, including "You've Got a Friend" and also wrote his own own material. His song "Fire and Rain" is probably the most recognizable, and it's also my favorite and another song mentioned in Jordan's Sister. He wrote it after a childhood friend, Suzanne, died by suicide.
Just yesterday mornin', they let me know you were goneSuzanne, the plans they made put an end to youI walked out this morning and I wrote down this songI just can't remember who to send it to

I've seen fire and I've seen rainI've seen sunny days that I thought would never endI've seen lonely times when I could not find a friendBut I always thought that I'd see you again
Another of his great originals is "Country Road."
Take to the highway won't you lend me your nameYour way and my way seem to be one and the same

Mama don't understand itShe wants to know where I've beenI'd have to be some kind of natural born foolTo want to pass that way againBut you know I could feel itOn a country road
Jared Leto
Jared Leto is an actor I first watched on the television show My So-Called Life when I was a teenager. He sang a bit on the show and later had several higher-profile acting roles before forming a band Thirty Seconds to Mars with his brother Shannon Leto. I got to see the band in concert in 2018 and recorded them performing one of their most popular releases, "The Kill." And damn, is that man pretty (even if he dresses a bit weird). The band's music started off hard rock and has evolved a bit with their latest album, which includes the song "Seasons." I love the song, but if I hadn't seen the live performance, I wouldn't have believed it was Jared singing since it sounds so different from the first album. Jared wrote the song with Shannon plus Connor McDonough, Johnny Goldstein and Riley McDonough. The lyrics have a reference to another great song of theirs, "A Beautiful Lie."
People, they come, and people, they goWhen the leaves change and the colors they showCan you hold on through the seasons?Through the seasons, oh

Through every high and through every lowA beautiful lie, it never gets oldCan you hold on through the seasons?Through the seasons, oh
I really love "Rescue Me" from their fifth studio album as well written by Jared Leto with Graham Muron.
Whatever you do, don't ever play my gameToo many years being the king of painYou gotta lose it all if you wanna take controlSell yourself to save your soul

Rescue me from the demons in my mindRescue me from the lovers in my lifeRescue me from the demons in my mindRescue me, rescue me, rescue me
Jason Wade
Jason Wade is the lead singer and songwriter for the band Lifehouse, and he has also released solo material. With the exception of some experimental techno-type music he's released, I've loved all his songs. I got to see Lifehouse in concert in 2017 (in front row seats) and recorded performances of "Hanging by a Moment," "Sick-Cycle Carousel," and "You and Me," which are among the band's most recognizable songs. "You and Me" was on my wedding playlist.
Unfortunately, my favorite song from their first album, "Breathing," written by Wade with Ron Aniello wasn't on the setlist.
I'm finding my way back to sanity again Though I don't really know what I'm gonna do when I get there I take a breath and hold on tight Spin around one more time And gracefully fall back to the arms of grace

'Cause I am hanging on every word you're saying Even if you don't wanna speak tonight That's alright, alright with me
I also really love Jason's solo release, "Stretch."
I'm so lost inside that smile
That I saw on your face today
I'm laying in bed and your face is all I can see
That smile's gonna be the end of me

Let's take turns falling asleep and watch each other dream
Or try our very best to stay awake
If tomorrow's gonna try and take you from me
Let's stretch the hours until daybreak
Jonathan Davis
The lead singer of the heavy metal band Korn also has solo material he's written. He's an interesting character who is hardcore, yet plays the bagpipes. So he's a metal badass nerd, and I love that.
I've always liked "Shoots and Ladders," but the lyrics in "Blind" really speak to me. It was written by Davis with Brian Welch, David Silveria, Dennis Shinn, James Shaffer, Reginald Arvizu, and Ryan Shuck.
There's a place inside my mind, a place I like to hide
You don't know the chances. What if I should die?!
A place inside my brain, another kind of pain
You don't know the chances. I'm so blind!

Another place I find to escape the pain inside
You don't know the chances. What if I should die?!
A place inside my brain, another kind of pain
You don't know the chances. I'm so blind!
"What It Is" from his solo album, written by Davis with Lauren Christy.
But it is what it isYou don't know how to live with what it isBut it is what it isIt may seem impossibleBut I will embrace who I really amIf it's a son of a bitch or a terrified kidThen that's what it is
John Lennon
After writing and performing songs like "In My Life," with Paul McCartney in The Beatles, Lennon went on to have a successful solo career and died tragically in 1980 at only 40 years old when he was shot by a deranged fan. Below are my two favorites of his solo releases.
"Imagine"
Imagine there's no heavenIt's easy if you tryNo hell below usAbove us, only sky

Imagine all the peopleLivin' for today
I was feeling insecure
You might not love me anymore
I was shivering inside
I was shivering inside

Oh I didn't mean to hurt you
I'm sorry that I made you cry
Oh my I didn't want to hurt you
I'm just a jealous guy
Jon Bon Jovi
Among the 1980s hair bands, Bon Jovi always stood out to me because I remember my older cousins watching the band on MTV at our grandmother's house. Of course, because of that early exposure, I love the band's signature song, "Livin' On a Prayer" written by Jon with bandmate Richie Sambora and songwriter-producer Desmond Child.
She says, "We've gotta hold on to what we've gotIt doesn't make a difference if we make it or notWe've got each other and that's a lot for loveWe'll give it a shot"

Whoa, we're halfway thereWhoa oh, livin' on a prayerTake my hand, we'll make it, I swearWhoa oh, livin' on a prayer
I adore their slower song, "Always," written by Jon for a film soundtrack, but held back because the movie was "terrible" according to Jon.
Now your pictures that you left behind
Are just memories of a different life
Some that made us laugh, some that made us cry
One that made you have to say goodbye
What I'd give to run my fingers through your hair
To touch your lips, to hold you near
When you say your prayers, try to understand
I've made mistakes, I'm just a man
Kurt Cobain
No one wrote lyrics quite like the late Kurt Cobain, who was the lead singer of grunge band Nirvana. Some of his lyrics were strange, but they always worked. One of my favorite songs penned by Cobain is "Pennyroyal Tea," and his solo performance of it for MTV Unplugged was amazing.
I'm so tired I can't sleepI'm a liar and a thiefSit and drink Pennyroyal TeaI'm anemic royalty

I'm on warm milk and laxativesCherry-flavored antacids

Sit and drink Pennyroyal TeaDistill the life that's inside of me
And "Lithium," of course.
I'm so happy 'cause today I found my friendsThey're in my headI'm so ugly, that's okay, 'cause so are youBroke our mirrorsSunday morning is every day, for all I careAnd I'm not scaredLight my candles in a daze'Cause I've found God
Layne Staley & Jerry Cantrell (tie)
The late lead co-lead singer of Alice and Chains, Layne Staley, was a gifted singer and lyricist. His name was the inspiration for the character of Layne in my novel Jordan's Sister. The band's MTV Unplugged performance of "Nutshell" was incredible, and raw with Staley's vocals capturing the pain of the song. Staley wrote the lyrics, and the music was composed by bandmates Mike Inez, Jerry Cantrell and Sean Kinney.
We chase misprinted liesWe face the path of timeAnd yet I fight, and yet I fightThis battle all aloneNo one to cry toNo place to call home
Lead guitarist and co-lead singer Jerry Cantrell wrote lyrics and music for "Heaven Beside You" with Inez. Cantrell sang lead vocals with Staley harmonizing. The two guys singing together and sharing songwriting duties made the band what it was, which was great. The band still exists, but it just isn't the same without Layne.
Like the coldest winter willHeaven beside you, hell withinAnd you think you have it stillHeaven inside you

So there's problems in your lifeThat's fucked up, and I'm not blindI'm just see through faded, super jadedAnd out of my mind
Michael Stipe
Michael Stipe is the lead singer of the alternative rock band R.E.M. that went on an indefinite hiatus in 2011. He's a slight and soft-spoken man with an expressive voice. They came onto my radar in the early 1990s, and I'll never forget hearing their song, "Losing My Religion" in the background of an episode of Beverly Hills, 90210. The song was powerful and hit me hard, even as a child, and I still love the song. It's on my honorable mentions list for favorite songs. Stipe wrote the song with bandmates Peter Buck, Mike E. Mills, and Bill Berry.
That's me in the cornerThat's me in the spotlightLosing my religionTrying to keep up with youAnd I don't know if I can do itOh no I've said too muchI haven't said enough
And of course, there's "Everybody Hurts" from their eighth studio album, written by the band.
When your day is longAnd the night, the night is yours aloneWhen you're sure you've had enoughOf this life, well hang on

Don't let yourself go'Cause everybody criesEverybody hurts sometimes
Paul McCartney
Paul McCartney wrote many of The Beatles' hit songs along with John Lennon before also going on to a successful solo career. I especially love "Blackbird," which McCartney wrote with some contributions from Lennon.
Blackbird singing in the dead of nightTake these broken wings and learn to flyAll your lifeYou were only waiting for this moment to arise

Blackbird singing in the dead of nightTake these sunken eyes and learn to seeAll your lifeYou were only waiting for this moment to be free
Another great one written mostly by McCarney with help from Lennon was "Yesterday."
Yesterday
All my troubles seemed so far away
Now it looks as though they're here to stay
Oh, I believe in yesterday

Suddenly
I'm not half the man I used to be
There's a shadow hanging over me
Oh, yesterday came suddenly
Prince
Prince is another artist who is in a class by himself. When he died prematurely at age 57, he left behind a vast back catalog of songs. Some of his songs became famous after being covered by other artists, like "Manic Monday" and "Nothing Compares 2 U." Fortunately, he wrote and recorded several iconic ones, including "Purple Rain," from a (terrible) movie of the same name.
I never meant to cause you any sorrowI never meant to cause you any painI only wanted one time to see you laughing

I only wanted to see youLaughing in the purple rain

Purple rain, purple rainI only want to see youLaughing in the purple rain
I really love "When Doves Cry" as well from the lyrics to the music.
Maybe I'm just too demandingMaybe I'm just like my father, too boldMaybe you're just like my motherShe's never satisfied (she's never satisfied)Why do we scream at each other?This is what it sounds like When doves cry
Robb McCormick
Robb McCormick plays original folk-rock music all over, but he's based in the Russellville, Arkansas, area near where I live. I first heard him at the now-defunct downtown Russellville coffeehouse called Higher Grounds. As a college freshman in fall 1999, I went through a lot of shit, and Robb's music was there for me then and still resonates with me now. His song, "Hard to be a Saint (1999)," is one of my top 10 favorites. Note: Any mistakes in the lyrics are unintentional, as I transcribed them myself.
You don't have to hide yourself from me
You don't have to find someone to be
You don't have to show me who you are
Where you're going
Or even where you came from
I also love his song, "Another Room," which has some really fast lyrics. Here's what I could transcribe, and check out the link to hear it for yourself.
Another room
Another dance
Another backward circumstance
Rob Thomas
Rob Thomas has done some solo work, but he's most known for being the lead singer and songwriter for Matchbox 20. I loved their song, "Push" when it came out, but a couple of other songs are really great too, like "Unwell."
But I'm not crazy, I'm just a little unwellI know, right now you can't tellBut stay a while and maybe then you'll seeA different side of me

I'm not crazy, I'm just a little impairedI know, right now you don't careBut soon enough you're gonna think of meAnd how I used to be
And "Bent."
If I need some other loveGive me more than I can standAnd when my smile gets old and fadedWait around I'll smile again

Shouldn't be so complicatedJust hold me and thenJust hold me again

Can you help me I'm bent
Scott Stapp
The lead singer of Creed is probably hated just a bit more than Chad Kroeger of Nickelback, since he's got a reputation for being a total asshole. But I love Creed's songs, written by Stapp with music by bandmate Mark Tremonti. My favorite song of theirs is "Higher," which is #9 on my top 10 favorite songs list.
When dreaming I'm guided to another worldTime and time againAt sunrise I fight to stay asleep'Cause I don't wanna leave the comfort of this place'Cause there's a hunger, a longing to escapeFrom the life I live when I'm awakeSo let's go thereLet's make our escape
Another standout is "My Own Prison," written by Stapp and Tremonti.
Court is in session, a verdict is inNo appeal on the docket today just my own sinThe walls cold and pale, the cage made of steelScreams fill the room, alone I drop and kneelSilence now the sound, my breath the only motion aroundDemons cluttering around, my face showing no emotionShackled by my sentence, expecting no returnHere there is no penance, my skin begins to burn
Shaun Morgan
Shaun Morgan is the lead singer of South African rock band Seether. I love their songs like "Gasoline," "Fine Again," and "Fake It." Their song "Broken," is one of my favorites, especially the duet version released with Amy Lee of Evanescence. That version of the song played at my wedding while Jonathan and I lit our unity candle. It was written by Morgan with bandmate Dale Stewart.
I wanted you to know I love the way you laughI want to hold you high and steal your pain awayI keep your photograph, and I know it serves me wellI want to hold you high and steal your pain

'Cause I'm broken when I'm lonesomeAnd I don't feel right when you've gone awayYou've gone awayYou don't feel me here anymore
"Sympathetic" is another great song, written by the duo.
And my words will be here when I'm goneAs I'm fading away against the windAnd the words you left me linger onAs I'm failing again now, never to change this

And I'm sympatheticNever letting on I feel the way I doAnd I'm falling apart again at the seam
Trent Reznor
Trent Reznor is the lead singer and composer for Nine Inch Inch Nails, a hard rock band that likes to use a lot of industrial or electronic elements to play with their sound. They also don't shy away from controversy, like with the song "Closer." Reznor wrote and recorded the song "Hurt," which was later recorded by Johnny Cash. While I like Cash's version just a bit more, that's not to discount how amazing the song is the way Trent sang it first—broken and raw. The lyrics are incredible.
I hurt myself today
To see if I still feel, I
Focus on the pain
The only thing that's real

The needle tears a hole
The old familiar sting
Try to kill it all away
But I remember everything
My second favorite of Reznor's songs with NIN is one he's said he doesn't care for as much as his other work, "The Perfect Drug." It was composed for a movie soundtrack,  The Lost Highway, which I didn't care for.
I've got my head, but my head is unravelingCan't keep control; can't keep track of where it's travelingI've got my heart, but my heart is no goodAnd you're the only one that's understood

I come along, but I don't know where you're taking meI shouldn't go, but you're wrenching, dragging, shaking meTurn off the sun; pull the stars from the skyThe more I give to you, the more I die
Honorable Mentions
Here are the male singer-songwriters who didn't quite make my top 30 favorites. These are also in alphabetical order by first name (or by band name if all members sing).
Adam Duritz, Adam Levine, Anthony Kiedis, Art Alexakis, Austin John Winkler, Axl Rose, Beck, Ben Folds, Ben Rector, Benjamin Burley, Billie Joe Armstrong, Billy Corgan, Billy Idol, Billy Joel
, Bono, Brad Arnold, Brandon Boyd, Brent Smith, Brett Emmons, Brian Fennell
, Brian Vander Ark, Bruce Springsteen, Bryan Adams, Buddy Holly, Cat Stevens, Chester Bennington, Chino Moreno, Chris Isaak
, Chris Martin, Darius Rucker, Dave Matthews, Dave Pirner, David Bowie, Dexter Holland, Don Henley, Don McLean, Ed Kowalczyk, Ed Roland, Eric Clapton, Eminem, Fred Durst, Glenn Frey, Gotye, Hanson brothers (Isaac, Taylor, Zac), Harry Styles, Howie Day, Isaac Slade, Ivan Moody, Jackson Browne, Jakob Dylan, James Arthur, James Bay, James Hetfield, Jamie Walters, Jason Isbell, Jason Mraz
, Jesse McCartney, Jim Morrison, John Denver, John Legend, John Mayer, John Mellencamp, John Rzeznik, Johnny Cash, Jon Foreman, Jonny Lang, Joseph Arthur, Josey Scott, Justin Timberlake, Kenny Wayne Shepherd, Kevin Martin, Kid Rock, Leonard Cohen, Mark Arm, Mark Foster, Mark Tremonti, Matt Nathanson, Matt Walst, Matthew Scannell, Maynard James Keenan, Michael Jackson, Mick Jagger, Mike Shinoda, Myles Kennedy, Neil Diamond, Niall Horan, Nick Jonas, Ozzy Osbourne, Pat Monahan, Paul McCartney, Paul Simon, Peter Gabriel, Raine Maida, Rick Springfield, Ritchie Valens, Ryan Adams, Ryan Cabrera, Ryan Taylor, Scott Weiland, Sean Danielsen, Shannon Hoon, Shawn Mendez, Shawn Mullins, Stephan Jenkins, Steven Tyler, Sting, Sully Erna, Tom Morello, Tom Petty, Tyler Connolly, Weird Al Yankovic, Wes Scantlin, Will Smith, and Willie Nelson.
Is there someone I missed?
Is there a male singer-songwriter you love who's not included in my post? Let me know in the comments so I can check out some more music.
Thanks for reading,
Brandi Easterling Collins
All song lyrics belong to their respective copyright holders. 
Image by storyset on Freepik