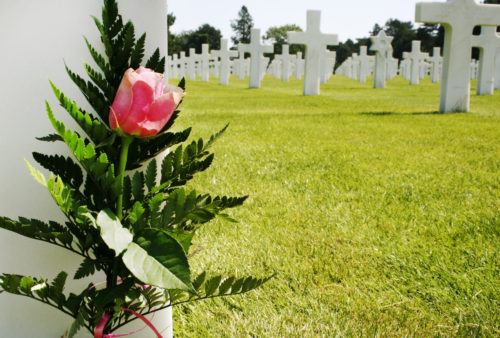 Most people don't like to talk about death because it's scary. Any time I bring it up to my husband, he's quick to change the subject. I think he's convinced he'll go first. He's said before that he never wants to lose me. I don't want to lose him either, but I don't think either one of us believes we're truly immortal. (Please note that I'm not talking religion right now.)
I've known about death for as long as I can remember, since I saw my first death at four years old, that of my father. A few months prior, my grandfather (Dad's father) had died. Though I didn't see him or attend his funeral, I remember looking for him and noticing he was gone. One of my aunts told me he had died, and even then, I think I realized it was a serious word.
My other grandparents (Mom's parents) died within a year and a few months of each other when I was 11 and 12. I went to the outside part of the funeral homes for those but didn't see them or attend the funeral. I hadn't wanted to. By then, I knew more about death and preferred to remember them the way they were. Grandpa's death was shocking. We'd all been together just a couple of weeks before to celebrate his 60th birthday. Then he had a heart attack on his way to work one morning and died instantly. Granny was never the same after he died. Her light was gone in a way. She died later of heart failure while in a hospital. We all knew it was coming and had more time to prepare.
Other deaths impacted me as I grew up. Classmates died. Classmates' relatives died. Distant relatives died. My parents' friends died. Celebrities died. As I grew older and began to drive, I started taking responsibility for placing flowers on my family member's graves. Carnations for my dad. Roses for my Grandpa Easterling. Sunflowers for my Granny and Grandpa Russell. For the Campbell graves, my mom would choose the flowers—different and colorful each time—and I would put them out. I'd only known one of the three buried there, my stepfather's grandfather, but too briefly to have formed a relationship.
I would always talk to my dad at his grave. Ask him if he was proud of the woman I was becoming. The truth is, I knew I could talk to him anytime because only his body was buried in that cemetery, not the essence of who he was and who I was because of him. But still, I went regularly out of respect and a sense of duty to keep new flowers on his grave to prove to whoever cared to notice that he had mattered to someone. That he was loved. But did it really matter what anyone else thought?
After some rough times in college when at one point, I came so close to committing suicide that I had pills in my hand, death took on an even more mysterious role to me. I wrote some scary poetry about dying while still breathing. Soul death. Deep, dark, macabre thoughts channeling my inner Edgar Allan Poe. I never wanted to die. Not really. At the time, I was so terrified to keep living with all the anguish ripping through every single cell in my body and clouding every thought that passed through my head that I just wanted the pain to stop. I can't believe that any person who attempts or commits suicide truly wants to die; they just want the pain to stop or feel they can't survive the pain for one second longer.
The first funeral I attended was that of my Meema Easterling. She was 82 years old, and I was 22, just a little more than 60 years younger than her. The weekend before she died, on a Friday night, a phone call came in telling me of her hospitalization. I canceled my plans with friends and made the two-hour drive to the Malvern hospital in record time, stopping to pick up my mom along the way. By the time we got to the ER, Meema was being discharged after some breathing treatments. There had been no reason to admit her, but I could tell her breathing was still labored. Mom and I drove her and my aunt (who lived with Meema) home. As I watched my mother carry her up the stairs into her home, I truly realized how fragile my grandmother was.
I stayed at my parents' house Friday and Saturday nights, spending a ton of time with Meema both Saturday and Sunday. We talked about everything and nothing at all. She asked me about finding a new boyfriend, which I hadn't, and reminded me that someone would find me soon. (I met Jonathan a few months later.) As I gave her the last hug on late Sunday afternoon, she sighed and held on a little longer. She looked me in the eyes and told me she loved me and ordered me not to worry about her. I told her I wouldn't worry about her as long as she didn't worry about me. That was the last time I saw her alive because less than a week later, she was gone.
Raw. Numb. Empty. Loved. That's how I felt while attending her service. The night before I'd gazed upon her tiny body, wearing the earrings and necklace I'd bought for her the morning of her death. I'd known that Saturday morning when I woke up that she was gone. She'd been hospitalized, and I'd stayed away, my family had told me I shouldn't see her that way with the machines and tubes. I'm glad I hadn't seen her that way. Seeing her so peaceful in the casket was strange to me. I can't say it helped me process the loss at all; the memories of her alive did that with time.
I've already written in-depth about my stepdad's sudden-death. I've attended several funerals since then. I sit respectfully, listening to the stories about the lost loved one. I try my damnedest not to cry because every time I do, I worry I might never stop.
Now that I've moved away from Glen Rose, where Fairplay Cemetery rests off the road on which my mother still lives, I take flowers to the graves of my fathers and grandparents each time I visit her. I feel guilty that I don't visit the graves more than a few times a year. And if I ever move out of state, then what?
Which brings me back to the serious conversation I had with my husband recently after the funeral of a dear family friend. I told him that I wanted no grave for our kids to visit. I wanted to be cremated when I died, with my ashes returned to the earth or kept for the comfort of my children if they deemed it appropriate. I mentioned that I didn't want to be kept alive by machines if I were in a vegetative state. Jonathan hates to hear me talk that way, and I know it scares him to think about those things, but I had to make sure he knew. Maybe we all should talk about those things so it's less scary.
Note: I wrote the preceding words on Monday, August 27.
Today, it is September 9, 2018. Exactly one week since my aunt, Diana Fleming, died suddenly.
Diana had made her final wishes known several years ago. She'd wanted to be cremated because she didn't want others looking at her body during a funeral. We were able to carry out her final wishes because we knew what she wanted.
I drove my cousin Adrian, Diana's only son, to witness her cremation on Thursday morning. The funeral home treated her with dignity and allowed us to say our final goodbyes. I will never forget what I saw that morning and will never write a description of those events. All I can say is that I needed to see her one last time to prepare myself to live without her.
Later that evening we held a celebration of life ceremony. Diana wouldn't have wanted anything sad, so we had no pastor lead the ceremony. I did. I didn't have the faintest idea how to lead a ceremony, so I tried to imagine what my aunt would have wanted and then spoke from the heart with no notes or heavy preparation. I told stories about her and encouraged others to do the same. I pushed through my fear of crying in public and managed to choke up only a bit at the end of my statements. The service was beautiful and exactly what Diana would have wanted. I'd like to imagine she watched from heaven and laughed with us during the silly stories that arose.
Because, when you think about it, that's all life is—a collection of stories, each one connecting to the next one, building from the ones before. What stories will others tell about you when you're gone? I hope my stories bring joy and laughter.
-Brandi Easterling Collins